How To Make Money Sports Trading Using Bet Angel Software And Betfair

I have an account with Betfair which is a very large sports exchange and an account with Bet Angel a sports trading software where you can for 99p buy a days access to the software to trade soccer, horse racing, greyhounds in UK and many other countries as a VPS allows this, so the VPS BetAngel supply is near the Betfair Exchange!
To have a slight edge and place the trade quicker so that you see the event ( last few furlongs of horseracing etc ) a bit sooner (hopefully) than the person you are trading against you could use a (VPS) virtual private server. Example I bet (back) £10 on say a horse called Donald Duck winning the race and someone on the Betfair exchange (lays) bets that Donald Duck will not win.
If I bet in-play trading I place the (back) trade with a left click of the mouse and say someone takes my £10 on the Betfair exchange and lays at 1.40 and the horse wins the race then I win £4 plus get my £10 back less a small commission to Betfair.
The above screenshot is of my small winnings from small trades using the in-play trader part of the Bet Angel Software: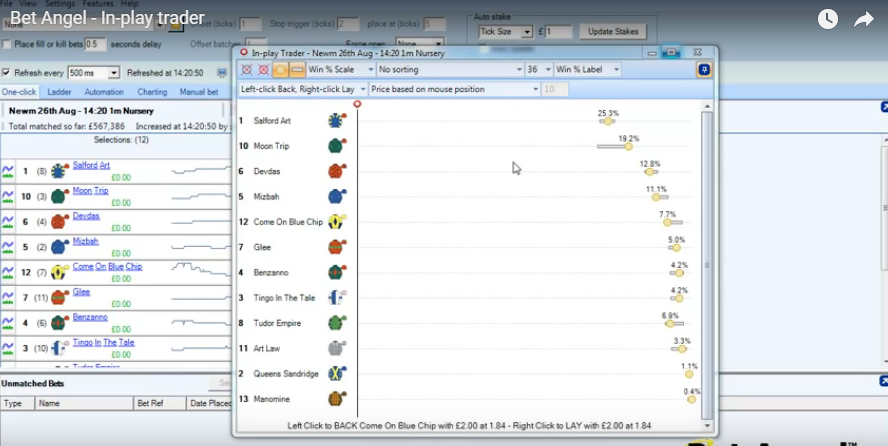 where left clicking the mouse as the % rate of the horses chance of winning moves and adjusts, if you want to lay against the horse winning you click the right side of the mouse.

BetAngel has a free trial period:
There is also a practice mode colored orange screen so that you can get lots of practice without spending any money until you become good at what trading strategy interests you the most, most people start with the basic "make a trade" button for £2 or scalping the trading ladders with a stop loss a few ticks above or below so if you do lose you only lose a few pence or pounds.
BetAngel Trading Ladder Below With £10 Stake: